Warwick Drive-in
5 Warwick Turnpike
Warwick, NY 10990
Phone :
845-986-4440
Warwick Drive-in Website
Warwick Drive-in Facebook Page
Get Directions to Warwick Drive-in
Status: OPEN
| | |
| --- | --- |
| Opened: | 1950 |
| Closed: | open |
| Screens: | 3 |
| Car Capacity: | 700 |
| Open Year Round: | No, Mar - Oct |
| Outside Food: | Allowed |
| | |
| --- | --- |
| Digital: | Yes - 4K |
| Admission Price: | $11 Adults, $8 Kids |
| Pets Allowed: | Yes |
| Cash Only: | No, CC accepted |
| Sound: | 87.9, 89.9, 90.9 FM |
| Food Permit: | None Needed |
| Alcohol: | Not sold |
About Warwick Drive-in
It's the stuff dreams are made of .. Frank Seeber got started in the Drive-in business as a teenager out at the old Tri-States Drive-in Matamoras, PA. Even then he talked of maybe someday having his own Drive-in Theater .. a dream he eventually realized many years later, in 1977, after purchasing the Warwick Drive-in. Originally a 5-acre pasture hosting a 70' wide solo screen, with a capacity for up to 350 cars when it first opened in 1950, Frank acquired additional acreage for it, doubling the size of the Warwick Drive-in and adding a second screen. The Warwick Drive-in has remained in continuous operation, and the dream remains intact (and now with 3 screens). Over the decades that have been marked by the rise of the Mall Culture and consequent demise of many thousands of Mom & Pop operations across America (and nearly 90% of our Drive-ins included), the Warwick remains lit, and still in the same family. Frank and his wife, Ann, retired after their 20th season, and it is now operated by one of their daughters and her family. They light each of their 3 screens with a double feature, seasonally, from mid-March thru October, every night of the week. Warwick is also the 1st of New York's nearly 30 Drive-in Cinemas to re-open each Season (typically, the weekend after St. Patty's Day). The audio for the movies is provided with a localized FM radio broadcast and the theater now has 4K digital projection. And now you can sign up for weekly text messages from the Warwick with their current line-up of movies for the week. Just text WARWICK TO: 51660.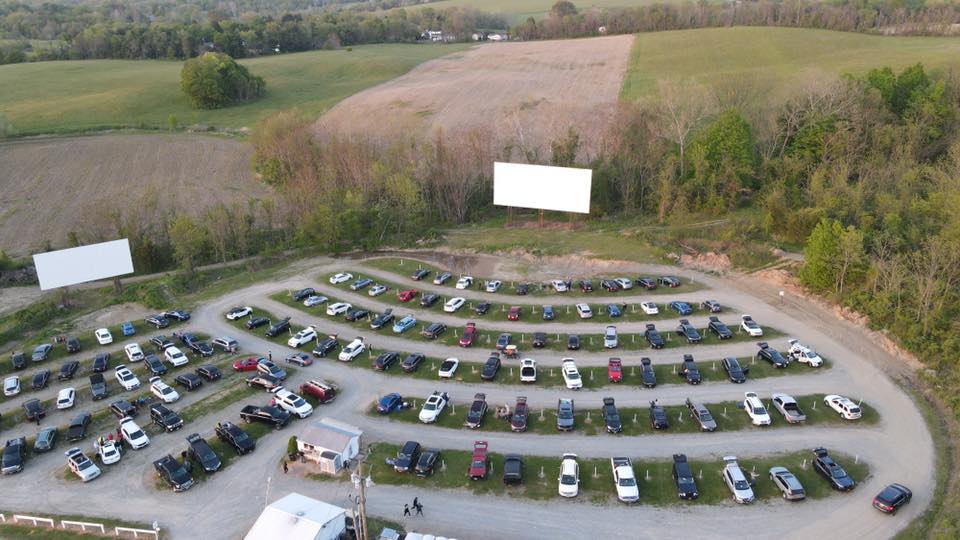 The lot and two of the three screens at the Warwick Drive-in located in Warwick, NY. CREDIT: Warwick Drive-in Facebook page.

Drive-in Theaters Nearby
Fair Oaks Drive-in
365 Bloomingburg Road
Middletown, NY 10940
---
Newark Moonlight Cinema
220 Orange Street
Newark, NJ 07103
---
Overlook Drive-in
126 Degarmo Road
Poughkeepsie, NY 12603
---
Hyde Park Drive-in
4114 Albany Post Road
Hyde Park, NY 12538
---
Four Brothers Drive-in Theater
4957 New York 22
Amenia, NY 12501
---
Circle Drive-in
1911 Scranton Carbondale Hwy
Dickson City, PA 18508
---
Becky's Drive-in
4548 Lehigh Dr
Berlinsville, PA 18088
---
Shankweiler's Drive-in
4540 Shankweiler Rd
Orefield, PA 18069
---
Mahoning Drive-in
635 Seneca Rd
Lehighton, PA 18235
---
HiWay Drive-in
10769 Route 9W
Coxsackie, NY 12051
---
Greenville Drive-in
10700 Route 32
Greenville, NY 12083
---
Pleasant Valley Drive-in
47 River Rd
Barkhamsted, CT 06063
---
Unadilla Drive-in Theater
1706 Route 7
Unadilla, NY 13849
---
Jericho Drive-in
21 Jericho Road
Glenmont, NY 12077
---
Hollywood Drive-in
9254 Averill Park Road
Averill Park, NY 12018