Silver Lake Twin Drive-in
7037 Chapman Avenue
Perry, NY 14530
Phone :
585-237-3372
Silver Lake Twin Drive-in Website
Silver Lake Twin Drive-in Facebook Page
Get Directions to Silver Lake Twin Drive-in
Status: OPEN
| | |
| --- | --- |
| Opened: | 1949 |
| Closed: | open |
| Screens: | 2 |
| Car Capacity: | 700 |
| Open Year Round: | No, Apr - Oct |
| Outside Food: | ??? |
| | |
| --- | --- |
| Digital: | Yes |
| Admission Price: | $8 adults, $4 kids |
| Pets Allowed: | ??? |
| Cash Only: | Yes |
| Sound: | 104.9 and 100.9 FM |
| Food Permit: | ??? |
| Alcohol: | ??? |
About Silver Lake Twin Drive-in
Originally a worn-out and run-down small town solo screen near the eastern shore of Silver Lake .. that had gone 'dark' by the point that the family which currently owns and operates it had acquired it (back in 1966); the old Picture Show at Silver Lake became New York's first resurrection, and harbinger of an eventual Drive-in Movie renaissance. Meanwhile, the new owners didn't simply restore and re-open the Drive-in; they imaginatively and substantially re-invented it. Improved down through two generations, and with the expansion and operations becoming a family tradition; handed down from the pioneering Father to the entrepreneurial Son, Silver Lake has expanded through the years to become one of the most elaborate and best run Drive-in Movie Theatres in America. They have also managed to do it without garishly altering or detracting from the inherent appeal of its attractive rural venue. Apart from the imaginative set-dressing and thematic deco aspects (better seen than described), the amenities and accentuations on their 18-acre property include: a classic 18-hole miniature golf layout, full restaurant, a pizzeria, and an ice cream parlor (open from 11am, 7 days a week). But the SHOW is the thing and as Drive-in Movie Theatre, they are lighting each of their 2 BIG screens with a double feature, seasonally, April thru October. Early and late in their season (Spring & Fall), they are open Weekends only; and then go full-tilt 7 nights a week after Memorial Day and thru Labor Day during the peak Summer season. Audio for the outdoor movies is provided with a localized radio broadcast (Screen One: 104.9 FM | Screen Two: 100.9 FM). Admission: $8 for ages 11 & up; $4 for Children of ages 4-10; kids aged 3 & under are admitted free. Credit and Debit Cards are not accepted (but there are 2 ATM machines on the premises). Please note that the Silver Lake Drive-in only accepts cash. So leave the credit cards at home.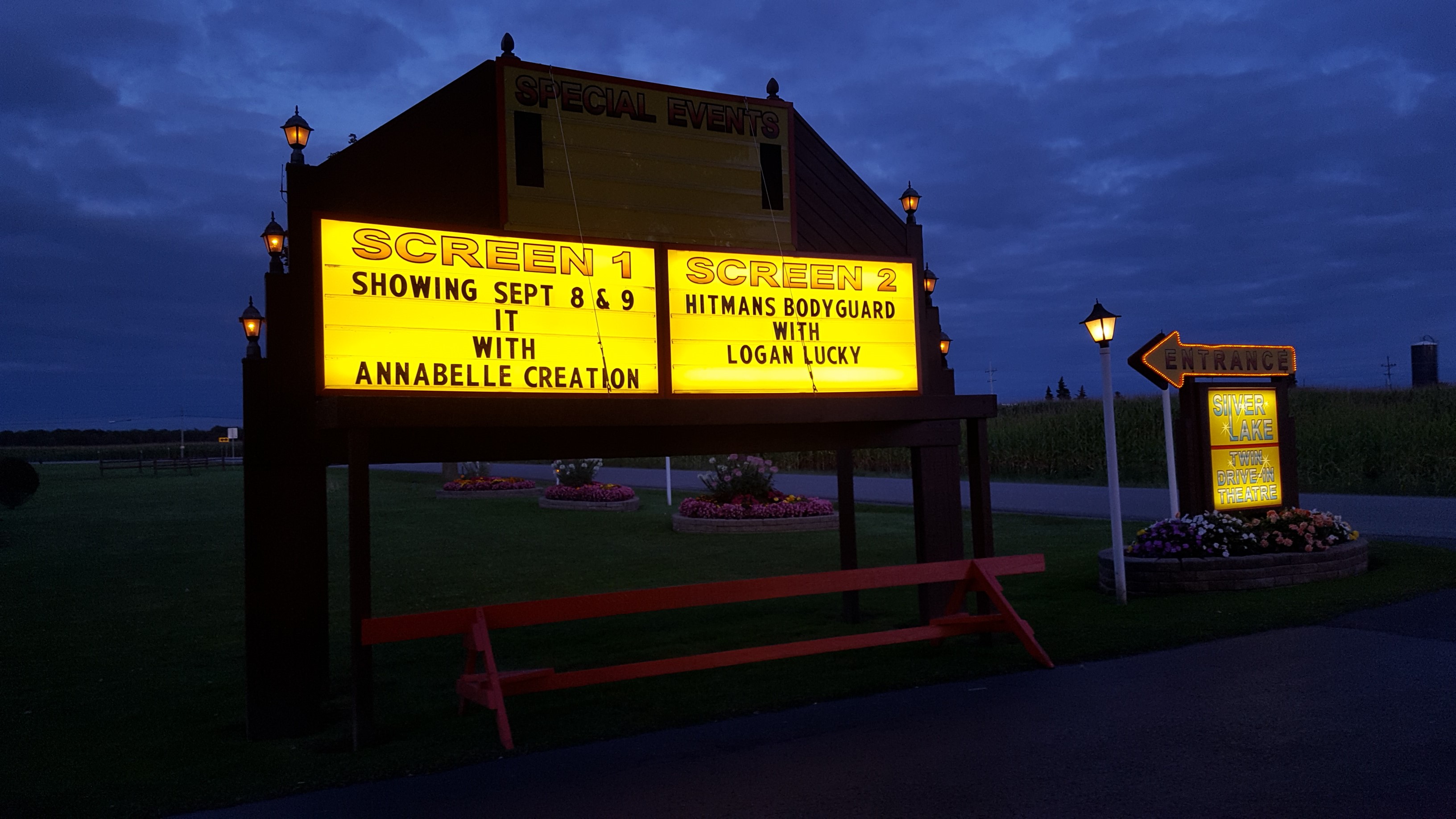 Sign at the Silver Lake Drive-in. Credit: Tim Chavers

Drive-in Theaters Nearby
Vintage Drive-in
1520 West Henrietta Road
Avon, NY 14414
---
Delvan Twin Drive-in
11771 State Route 16
Delvan, NY 14042
---
Sunset Drive-in
9950 Telegraph Road
Middleport, NY 14105
---
Transit Drive-in
6655 Transit Road
Lockport, NY 14094
---
Portville Drive-in Theater
357 Route 417
Portville, NY 14770
---
Elmira Drive-in
2431 Route 352
Big Flats, NY 14903
---
Finger Lakes Drive-in
1064 Clark Street Road
Aurelius, NY 13021
---
Family Drive-in
6627 US-6
Kane, PA 16735
---
Port Hope Drive-In
2141 Theatre Rd S
Cobourg, Ontario K9A 4J7
---
Mustang Drive-in
1521 Prince Edward County Rd 1
Picton, Ontario K0K 2T0
---
Stardust Drive-In
893 Mt Albert Rd
Sharon, Ontario L0G 1V0