Non-Profit Formed To Save The Sundance Kid Drive In Theater
by DriveInMovie.com Released : 2022-07-28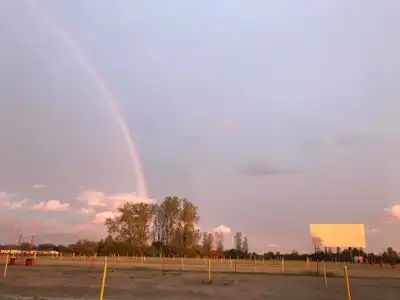 The Sundance Kid Drive-in is a twin screen drive-in movie theater located in Oregon, Ohio which is a suburb of Toledo in the Northwest portion of the state. It is Ohio's oldest operating drive-in as it was originally opened 1949. However, the future of the Sundance Kid Drive-in is now in peril. In March of 2022, the operator of the Sundance Kid Drive-in announced the drive-in was hiring for their last season. So, it appears the plans are to shut down the Sundance Kid Drive-in after this summer season.
No reason was given by the owner at the time for the shut down, but it is known that the owner of the land on which the drive-in sits (the owner of the Sundance Kid Drive-in does not own the land) has put the land and its buildings up for sale. Most believe if the drive-in is sold, it will be closed and the land developed.
So, a group of local residents started a non-profit organization called Save Our Screen which they hope can save the Sundance Kid Drive-in. They are soliciting donations towards this end and looking for volunteers to help in their efforts.
But Save Our Screen has bigger plans than just saving the drive-in. On their website and in supplementary materials they provided to DriveInMovie.com, they actually have a masterplan comprised of several development phases.
If they can acquire the drive-in, they first plan to rename it the Parkside Drive-in which was its original name when opened in 1949. They also plan to operate the drive-in as a traditional community drive-in and restore the concession building and other fixtures on the property. And finally, they hope to get the drive-in designated as a National Historic Site and launch a museum on site dedicated to the history of drive-ins.
It should be noted that in a story published by WTOL11 News, the owner of the drive-in stated the he is not sure how he would fit into the plans that Save Our Screen have, but he is willing to work with them. He also stated that he is not looking to buy the land himself.
To learn more about this organization and/or to donate or volunteer to help, visit their website at Save Our Screen.
If you love drive-ins and want to help support them as well as stay up to date on drive-in news, please like our Facebook page at www.facebook.com/driveinmoviepage/. Or to find a drive-in near you, visit www.DriveInMovie.com.