National Drive-in Movie Day is June 6th, 2022
by DriveInMovie.com Released : 2022-06-04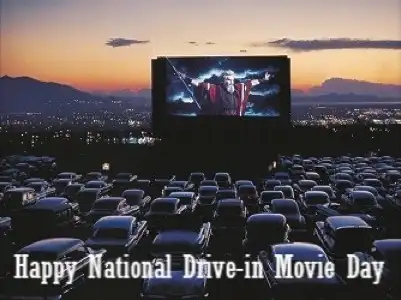 National Drive-in Movie Day 2022 and the History of Drive-ins
June 6th is National Drive-in Movie Day! On June 6, 2022, we will celebrate the 89th anniversary of the opening of the first drive-in. The drive-in is truly an American invention as eighty nine years ago on June 6th, 1933, Richard Hollingshead opened the first, permanent drive-in theater in Camden, NJ. Interestingly, his motivation for developing the drive-in was spurred by the fact that his mother was a fairly large lady who did not fit comfortably into standard indoor movie theater seats. Wanting to watch movies with his mother, Richard came up with the idea of watching movies from the family car where his mother would be more comfortable.
Richard began experimenting with showing movies in the driveway of his home. He tried several setup variations before he found what he thought was the right configuration of projector, screen, sound and spacing between cars. With that he applied for a patent for a drive-in theater in 1932 which was granted in May of 1933. Shortly thereafter in June of 1933, he opened his first drive-in which was called the Automobile Movie Theatre. His slogan for his drive-in theater was, "The whole family is welcome, regardless of how noisy the children are." We love this slogan and think it is still true today and still one of the reasons drive-in movies are still around.
Hollingshead never made a profit with his Automobile Movie Theatre and sold it several years later to a new owner who moved it to another location. Nevertheless, the drive-in craze had started. Astonishingly, the second drive-in to open, Shankweiler's Drive-in located in Orefield, PA, was opened in 1934 and is still open today making it the oldest operating drive-in in the world.
Hollinghead's patent was ruled invalid in 1950 and the number of drive-ins exploded and then peaked in the late 1950's – early 1960's. During this time, which is generally considered the golden age of drive-ins, there were over 4000 drive-in theaters across the United States. But the golden age only lasted a decade or so and in the 1970's the number of drive-ins began to decline rapidly for a number of reasons. For a more in-depth history of the drive-in, read our article The History of the Drive-in.
The Decline of the Drive-in
There have been many reasons attributed to the rapid and steep decline of drive-in movies in the 1970's and 1980's. But we believe the three biggest reasons were the move to Daylights Savings Time which pushed the start of the movies back an hour; the introduction of VHS movies which provided more in-home movie options; and increasing land values and taxes which made it more profitable to sell a drive-in for the land than to operate it. By the late 1990's, over 3000 drive-ins had closed and only about 600 remained.
However, in the early 2000's, it appeared the steady decline of the drive-in had stopped and actually reversed. The closings stopped and a few new drive-ins began to open. But all that changed in the mid 2000's when the movie studios announced they were switching to digital projection. This required drive-in theaters to purchase new digital projectors which could cost upwards of $60,000 each. Many drive-ins could not afford to make the switch to digital and closed. The phrase of the time was, "Go Digital or Go Dark", and Go Dark many of them did. After the switch to digital drove many out of business, by 2016 there were only about 330 drive-ins left operating in the United States.
The Current State of the Drive-in
As of 2022, there are about 330 remaining drive-ins in the United States, about 40 in Canada and 15 in Australia (you can locate drive-ins by state here). But much changed in 2020 when the Covid-19 pandemic struck closing indoor movie theaters and almost all other entertainment venues. Drive-in theaters experienced a resurgence as the drive-in was one of the few entertainment outdoor options available.
At drive-ins, people could easily distance themselves from others and even stay in their own car the entire time if they wished. While many businesses were forced to close or endure severe restrictions, drive-in theaters in most area were allowed to operate since they were outside and people could be spread out.
During 2020 and 2021, drive-ins not only showed movies, but were the sites of concerts and graduations and even weddings. However, in 2022 as restrictions were lifted and indoor movie theaters and other entertainment venues were opened again, drive-in attendance once again began to fall. But many drive-ins are still going strong and saw record crowds Memorial Day weekend of 2022 driven by the blockbuster Top Gun: Maverick movie.
Many people are surprised to learn there are still drive-ins around and even close to them. If you have a drive-in nearby and want to visit for the first time, there are certain things you should know beforehand such as what to expect, what to bring with you and what not to bring with you. For a list of tips and suggestions for visiting a drive-in, visit Tips for Visiting the Drive-in.
So on National Drive-in Movie Day, find a drive-in near you, pack up the family (and even pets in some cases) and head out to watch a movie under the stars. If you are a fan of drive-ins and want to stay up to date on drive-in news, openings and happenings, follow our Facebook page.