Cinemagic Drive-in Theater in Alabama to Close After 25 Years in Operation
by DriveinMovie.com Released : 2022-07-20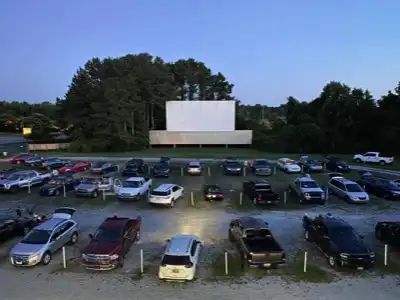 The Cinemagic Drive-in is a single screen drive-in theater located in the small community of Athens, Alabama which is located about a 40 minute drive west of Huntsville, Alabama. It was built new from the ground up and opened in 1997 by current owner Ralph Freehauf. At the time, it was the only theater of any kind in the city of Athens. When opened, it had a capacity of about 400 cars and was fairly successful right from the start.
Nine years later, the owner opened a 5 screen indoor theater on the same land providing the community of Athens with both its only drive-in theater and its only indoor theater as well. But after 25 years of operation, owner Ralph Freehauf says it is time for him to retire so he is closing both the drive-in and indoor theater.
In 2021, he put the Cinemagic Drive-in and the indoor theater up for sale for $1.75 million and hoped a buyer would come along that would continue to operate both. However, he has not found a buyer and so he decided to close both theaters completely. They will remain for sale.
Mr. Freehauf cited both his retirement age and the effects of the Covid pandemic as reasons for closing. He told WHNT.com news, "I'm past retirement age, so that's a reason [and] people haven't come back since the pandemic. It's less than half [and] we've got mortgage payments to pay. We've only broken even twice in the last two years. The only thing keeping us open now [are] the federal grants from Congress."
We have seen a large number of drive-in theaters close this year citing ongoing effects from the pandemic. While many drive-ins have thrived, some have struggled with the lack of new releases in 2021 and now inflation and labor shortages in 2022. In addition, Mr. Freehauf is also dealing with an indoor theater and indoor theaters have seen greater declines in attendance than drive-in movie theaters.
The community of Athens is rightfully saddened by the closure as the Cinemagic Drive-in and Indoor Theater were the only movie theaters in the community. However, they are still for sale and we hope a buyer comes along that wants to continue to operate the drive-in.
If you love drive-ins and want to help support them as well as stay up to date on drive-in news, please like our Facebook page at www.facebook.com/driveinmoviepage/. Or to find a drive-in near you, visit www.DriveInMovie.com.