Hi-way Drive-in
3085 Santa Maria Way
Santa Maria, CA 93455
Phone :
805-937-3515
Hi-way Drive-in Website
Hi-way Drive-in Facebook Page
Get Directions to Hi-way Drive-in
Status: OPEN
| | |
| --- | --- |
| Opened: | 1959 |
| Closed: | open |
| Screens: | 1 |
| Car Capacity: | 550 |
| Open Year Round: | Yes |
| Outside Food: | Allowed |
| | |
| --- | --- |
| Digital: | Yes |
| Admission Price: | $10 adults, $4 kids |
| Pets Allowed: | ??? |
| Cash Only: | No, CC Accepted |
| Sound: | 92.1 FM |
| Food Permit: | None Needed |
| Alcohol: | ??? |
About Hi-way Drive-in
**UPDATE AS OF DECEMBER 2020** The Hi-Way Drive-in's website is back up and as of Christmas week, they are showing the newly released Wonder Woman 1984 movie. Their movie schedule displays they are showing the Wonder Woman movie through December 31, 2020. However, there are currently no future showings listed after that date. We will continue to update our site as we learn more about the future of the Hi-Way Drive-in. **UPDATE AS OF AUGUST 15** After announcing their permanent closure about a month ago and deleting their Facebook page and website, the Hi-Way Drive-in has now announced they are re-opening. They plan to re-open on Saturday, August 29th to show the Metallica Drive-in concert. They plan to remain open after that to continue showing movies. We will update the drive-ins status as we learn more. **UPDATE AS OF JULY 2020** It now appears the Hi-Way Drive-in has closed. As we noted below, the Hi-Way Drive-in was listed for sale earlier in 2020 with the local government stating it wanted to see a shift from commercial to residential use. As of this writing, the website for the Hi-Way Drive-in is showing no movies, their Facebook page has been disabled and their phone number has been disconnected. So appears the drive-in has closed for good. We will update this page if we learn anything new, but for now, we are moving this drive-in to permanently closed status. The Hi-Way Drive-in is a single screen drive-in theater located in Santa Maria, CA. It is one of two remaining drive-ins operating in Santa Barbara county. The Hi-Way Drive-in has a large 550 car capacity and the lot facing the screen is on a slant which improves viewing as the cars in front of you do not block your view of the screen. The drive-in uses FM broadcasting for the movie's audio but they also still have the traditional movie speakers. They also host a 'Super Sunday Flea Market' on the drive-in lot on Sunday mornings. The Hi-Way Drive-in is currently for sale for $3.3 million. The listing states local government would like to see a shift from business to residential so we expect that once this drive-in is sold, it will be closed and redeveloped into residential use.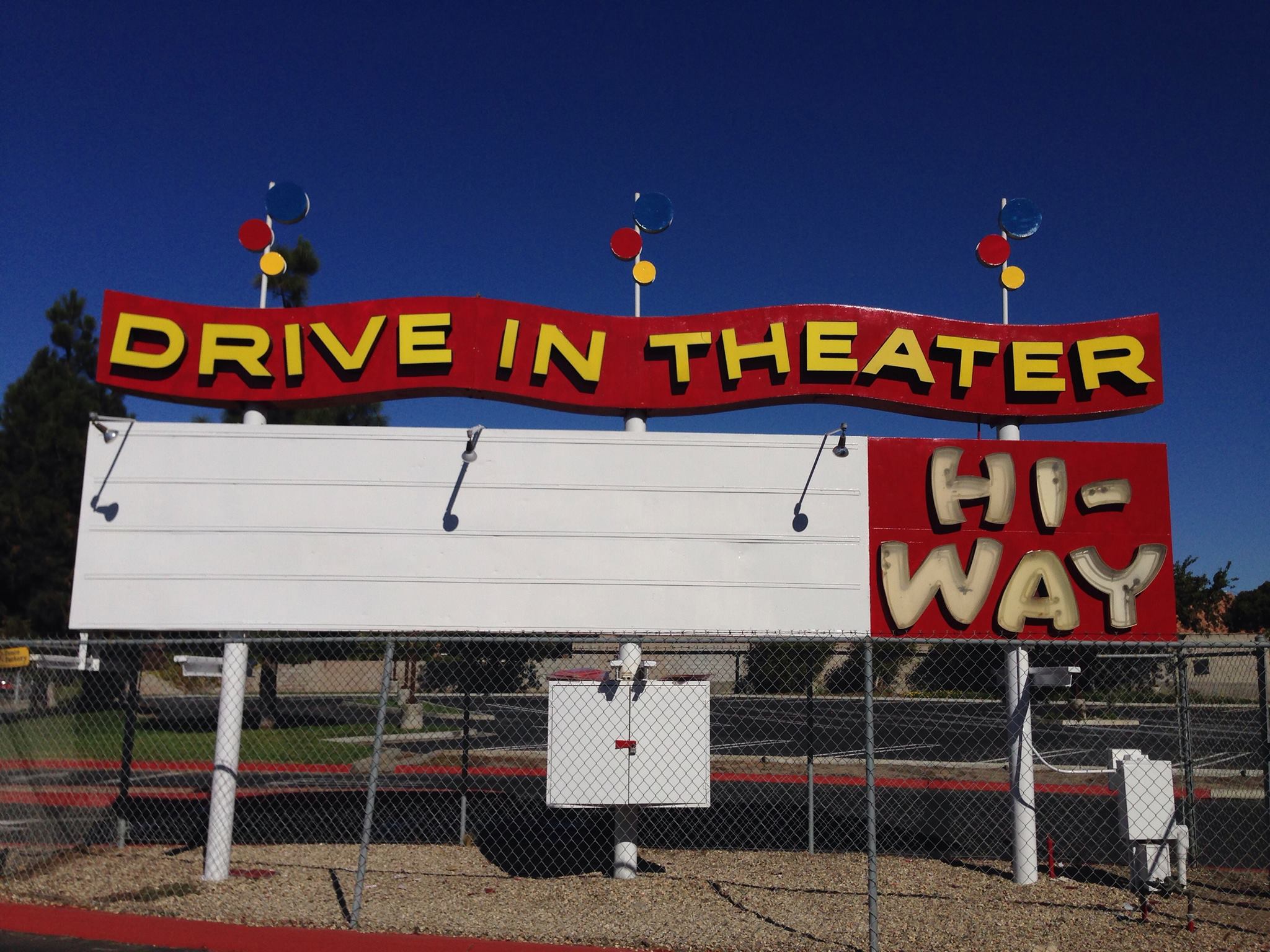 Marquee at the Hi-way Drive-in. CREDIT: Hi-Way Drive-in Facebook page

Drive-in Theaters Nearby
Sunset Drive-in
255 Elks Lane
San Luis Obispo, CA 93401
---
West Wind Santa Barbara Drive-in
907 South Kellogg Avenue
Goleta, CA 93117