Are Drive-in Theaters Making a Comeback?
by DriveInMovie.com Released : 2018-05-01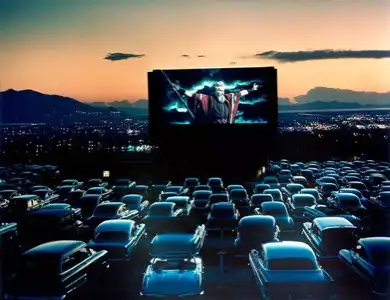 Drive-in theaters are an ingrained part of American culture much like baseball and homemade apple pie. And for several good reasons: First, the drive-in theater is truly an American invention. The first drive-in was opened in June of 1933 by Richard Hollingshead. And while Mr. Hollingshead never made a profit on his drive-in, the idea stuck and the drive-in era began (for more history on drive-ins, visit http://www.driveinmovie.com/history-of-drive-ins). Second, America has always had a love affair with automobiles like no other country and what better way to spend more time in your beloved automobile than spending an evening under the stars watching a movie. And finally, America has always had an excess of one of the prime ingredients needed for drive-ins, wide open spaces.
By the late 1950's/early 1960's, there were approximately 4000 drive-ins open across the U.S. But that was the peak and since then over 90% of them have closed leaving about 330 currently operating in the United States. There are approximately 42 left in Canada, 16 in Australia and a few scattered throughout Europe and Asia and South America.
There are many reasons for the decline in the number of drive-in theaters such as technological advancements in home entertainment, daylight savings time and rising property values. But it seemed by the late 1990's and early 2000's, the high number of drive-in closures had slowed and it appeared the industry was entering into a bit of a renaissance. But then another huge blow hit the industry. In 2013, movie studios switched entirely from 35mm film to digital. That meant drive-ins had to purchase new, expensive digital projectors or go out of business. And go out of business many of them did with a high number of closures in 2013 and the following years.
Since the 1970s, there has been a net loss of drive-in theaters ever year which simply means that more drive-ins closed every year than new ones opened. But now, almost all of the drive-ins that are still operating (there are a few exceptions) have made the investment and switched to digital projection. So most of the drive-ins still here are here to stay.
Recently, there has been a renewed interest in drive-ins by the public and therefore a corresponding increase in the number of new drive-in theaters scheduled to be opened. DriveInMovie.com is currently tracking 8-10 new drive-ins which plan to open in 2018 or early 2019. And while that may not sound like a large number, we only know of a couple of closings this year which means 2018 may be the first year in nearly 40 years that we have a net gain of drive-in theaters in the U.S. While some of the drive-in projects are still in the very early stages of planning, some are already underway. Below are a few examples of new drive-ins where the permitting process is complete and construction is either imminent or already underway.
I-40 Drive-in located in Graham, NC
The proposed I-40 Drive-in to be located in Graham, NC is by far the largest and most ambitious of the new drive-ins of which we are aware. This will be a 5 screen drive-in located on over 30 acres capable of holding 1000 cars. The owners (a husband and wife team) have plenty of experience with drive-ins as they already own three others, including one which they built from the ground up just a few years ago. They have already obtained all their needed permits and construction is scheduled to begin soon. The I-40 Drive-in is scheduled to be open in the fall of 2018. Visit www.facebook.com/I40Drivein/ to keep up on their progress.
Center Road Drive-in located in Hartsville, SC
The Center Road Drive-in will be located in Hartsville, SC. It will be a two screen drive-in (actually one physical screen that can screen movies on both sides at the same time). The Center Road Drive-in is being built from the ground up by the Anderson family which has owned the farm land it will be located on for 75 years. It will be a family affair with the Anderson family running the business. They are still in the process of obtaining a few permits and construction should start soon. It is scheduled to open in April of 2018. Visit www.facebook.com/centerroaddrivein/ to check on their progress.
Sauerbeck Drive-in located in LaGrange, KY
The Sauerbeck Drive-in is a proposed two screen drive-in which will be located in LaGrange, KY which is about 20 minutes outside of Louisville, KY. Originally, this drive-in was going to be located in neighboring Crestwood, KY. But opposition from neighbors of the proposed drive-in forced them to move to a more urban setting. The drive-in is being built and will be operated by the Sauerbeck family. It is scheduled to open by the summer of 2018. Visit their website at www.sauerbeckfamilydrivein.com to check for updates.
Moonlite Drive-in located in West Wyoming, Pennsylvania
Unlike the drive-ins mentioned above which are being built from the ground up, the Moonlite Drive-in was opened in 1955 and operated until the mid-1980's. It has been closed ever since. But it has been purchased by new owners and they have now secured all the proper permits to re-open the theater. They are currently in the process of restoring the screen and concession/projector building. It is amazing to think that after 30 years of sitting vacant, the original screen is still usable. They are scheduled to open in the spring of 2018. Check www.facebook.com/moonlitedriveinllc/ for their progress.
Doc's Drive-in Theatre located in Buda, Texas
Doc's Drive-in Theatre is going to be a very unique drive-in experience. The drive-in will feature two screens but will also feature tiny homes that can br rented so guests can stay the night. In addition, they have a pond with a swimming beach for guests, a full service restaurant and a bar on site. Doc's is currently under construction in Buda, TX (outside of Austin, TX) and plans to open in July of 2018. Visit their website at www.docsdriveintheatre.com to follow their progress.
Moon Lite Drive-in located in Terre Haute, IN
This is another rehab of a drive-in that has been closed since 1985 (not to be confused with the Moonlite mentioned above located in West Wyoming, Pennsylvania). This Moon Lite has also been closed since 1985. It is being refurbished by KJB Theaters which also owns a drive-in in Bloomington, IN. It is scheduled this Fall and you can follow there progress here www.facebook.com/Moon-Lite-Drive-In-Theater-Terre-Haute-163357371043117/.
Hopefully, the drive-ins listed above, as well as the others which are being proposed, are all successful in their construction efforts and are open to great fanfare later this year. And with any luck, the number of drive-in theaters in the U.S. will increase this year for the first time in decades. While one year does not make a trend, it would certainly be refreshing to see this authentic America past time make a comeback.
If you love drive-ins and want to help support them as well as stay up to date on drive-in news, please like our Facebook page at www.facebook.com/driveinmoviepage/. Or to find a drive-in near you, visit www.DriveInMovie.com.