Vast Of Night Movie Being Shown at Drive-ins
by Driveinmovie.com Released : 2020-05-15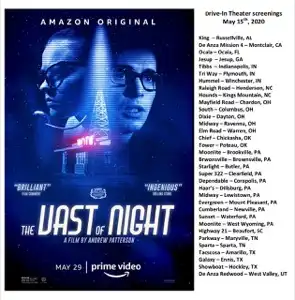 The Vast of Night is an Amazon original movie. It is being shown the weekend of May 15th at select drive-in theaters before it is being released on Amazon Prime later in the month.
The drive-ins where the movie will be screened are shown in the photo to the right. If you want to attend, please check with the drive-in you plan to visit for showtimes and Covid-19 restrictions.
The movie is set in the 1950's and so to pay homage to that time period, admission for the movie is only $.50.
According to The Vast of Night's Facebook page, the plot is as follows: "Over the course of one night in 1950's New Mexico, while all of the residents of a small town watch a high school basketball game, a young switchboard operator and a radio DJ believe a mystery is afoot."