Doc's Drive-in Theater for sale for $3,999,999
by DriveInMovie.com Released : 2022-07-29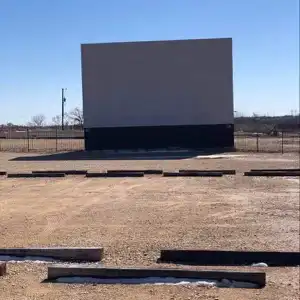 Doc's Drive-in Theatre is a twin screen drive-in theater located in Buda, Texas which is about 15 south of Austin, Texas. Doc's Drive-in is a fairly new drive-in theater that opened in October of 2018. It has some unique features such as tiny homes (that they call casitas) with movie themes that can be rented so you can stay the night after the movies. They also have a pond with a swimming beach that rental house guests can use. As you would expect, Doc's has concessions on site but they also have a bar as well modeled after an old Speakeasy bar.
In July of 2022, the owners of Doc's Drive-in Theatre announced it was being listed for sale. There are currently no plans to close Doc's Drive-in Theatre as of now as we certainly hope that a buyer comes along that wants to continue to operate it as a drive-in theater. However, it is sitting on 8 acres of land in a growing and ever more popular part of Austin, Texas.
The asking price for Doc's Drive-in is a whopping $3,999,999 which includes 8 acres, two movie screens, a members-only speakeasy club, a commercial kitchen, and three casitas (plus their short-term rental income flow). So, there are other revenue generating businesses included in the sale which are the casitas (which are small overnight rentals) and the members only speakeasy bar. But at just under $4 million, the asking price makes Doc's Drive-in Theatre the most expensive drive-in for currently for sale of which we are aware.
For comparison, there are several other well maintained, fully operational drive-in theaters for sale for under $1 million. Visit operating drive-in theaters for sale to see a current list of all drive-in theaters for sale.
Click here to see the official real estate listing for Doc's Drive-in Theatre.
If you are enjoyed this article and wish to see more like it, please LIKE our Facebook page and share this article with your friends. And visit www.DriveInMovie.com to find a drive-in near you.