Coronavirus Updates for Drive-in Theaters
by DriveInMovie.com Released : 2020-05-22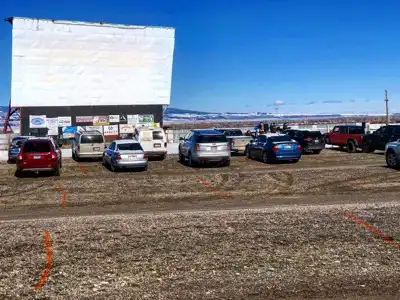 Update as of May 22th, 2020
When statewide lockdowns and mandatory stay at home orders began in March, almost all theaters, including Drive-in Theaters, were forced to close in order to slow the spread of the Coronavirus. However, some drive-ins were able to remain open with Social Distancing restictions. During late March and much of April, there were only about 30 drive-ins across the country that were able to remain open. However, more drive-ins were allowed to open with strict restrictions starting in April. And by early May, more states allowed their drive-ins to open. As we enter Memorial Day weekend, the majority of the country's drive-ins are allowed to open and will be open this weekend
But the drive-ins that have opened or plan to open soon follow some form of these guidlines:
1) Cars must leave a space between them to increase the space between cars. This generally reduces the drive-in's normal car capacity in half so be sure to get there early or buy tickets online if offered.
2) Many of the drive-ins have moved to online ticket sales so there is no person to person interaction at the box office. So check before you go. Some drive-ins require you buy your tickets online in advance and thefore you cannot just arrive and hope to buy a ticket.
3) Concessions are either closed completely, or other modifications have been made such as online ordering with car delivery or a single pickup window. Many drive-ins that normally do not allow outside food to be brought in are now allowing outside food while these concession restrictions are in place. Remember that drive-ins, as with indoor theaters, make the majority of their money from concessions and not actual ticket sales. So for those that have closed their concessions, this is partically harmful. For those drive-ins with open and/or limited concessions, please support those drive-ins by purchasing from them.
4) Some drive-ins do not allow you to leave the car for any reason, even for the restroom. Other drive-ins do allow you to sit outside your car as long as you wear a mask while outside the car. Again, policies vary widely.
5) Initially, many drive-ins closed their restrooms completely while others simply limited the number of people in the restroom at one time. Most drive-ins have now re-opened their restrooms with restrictions on the number of people that can be in the restroom and with increased cleanings of the restrooms.
With online ticket sales and online food ordering, many drive-ins have greatly minimized any person to person interaction when visiting. Families can bring their own food and stay in their cars and therefore enjoy a night out at the movies without ever coming into contact with anyone else.
But be aware that mandatory business closures vary by state, by county and even by city. For this reason, we suggest anyone wanting to visit a drive-in first check with the drive-in via their website, Facebook page or by calling them to get the most up to date information on whether they are open as well as their restrictions and requirements for visiting. Search for a drive-in near you. Interactive Map of all Drive-ins.